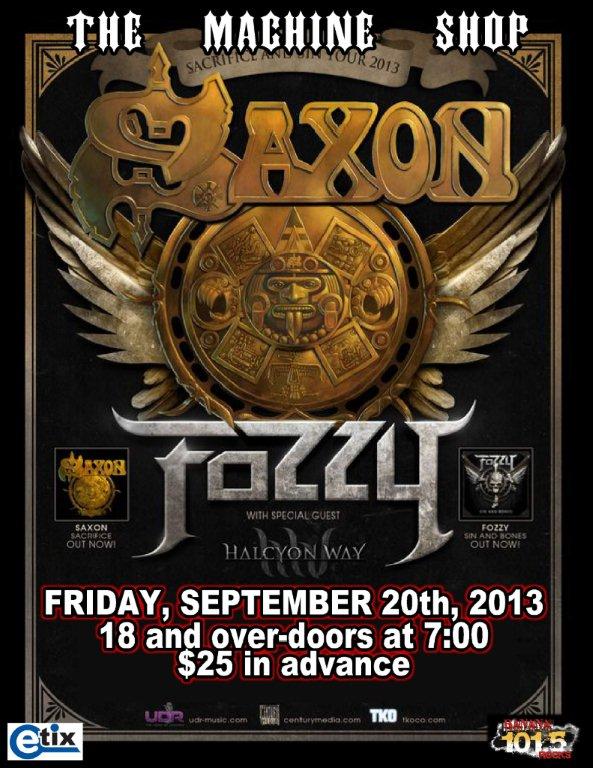 Venue: The Machine Shop
City: Flint, MI
Date: September 20, 2013
Reviewer: Sean Goscinski
Photographs of the show HERE: Jeff Mintline (www.mintypics.com)
SAXON. The name conjures up visions of English Warriors marching into battle... and that's precisely what hit The Machine Shop in Flint, MI Friday on September 20. Bassist Nibs Carter, guitarist Doug Scarratt, longtime drummer Nigel Glockler, original member guitarist Paul Quinn, and their leader, the legendary Biff Byford, stormed the Machine Shop stage opening with the title track to their new LP "Sacrifice" and didn't let up for nearly an hour and a half, running through a set introducing the new material to the fans, while spending enough time with the classics to keep even the most diehard-old school fans ecstatic.
After an exceptionally well received set by openers, the Chris Jericho led Fozzy, the intro tape of "Processional" from the latest lp began. The band tore through "Sacrifice" and flexed their collective muscle, showing that ever after all these years they can still rock with the best of them. The first hair raising moment of the night occurred when they began the second song of the set, the title track to the classic "The Power and The Glory". Biff let loose the first wolf whistle of the night, and the band never looked back. The tour debut of the scorcher "2000 feet" gave the small but dedicated crowd a lesson in New Wave Of British Heavy Metal and its influence on thrash and modern metal. New tracks such as Wheels of Terror" and "Made in Belfast" stood alongside mid 90's period songs like "Dogs of War, classic 80's breakthrough tracks "Rock and Roll Gypsy" and the epic "Crusader" as well as early material like "Motorcycle Man", "747 (Strangers in the Night)", "Dallas 1PM" and "The Eagle Has Landed.". Biff was in fine form, sounding better than a 60-something year ever should, and showed why he stands among legends like Lemmy and Steve Harris as British Metal Royalty.
Nearing the end of the set, Biff profusely thanked the crowd for the 30+ years of support, and exclaimed that whether they were playing an arena in Sweden, or a festival at Donnington, or a small club in Flint Michigan, that it was all about the music, all about the fans, and "all about the fuckin' Denim & Leather!" They then encored with a couple songs that pretty much define the NWOBHM movement: "Wheels of Steel" and "Princess of the Night" and the night came to an end.
In a musical world where bands come and go so quickly, it's comforting to know that there are still bands like Saxon out there plugging along. They may have never reached the commercial heights that they deserved, but their dedication and perseverance have earned them great respect, from their peers like Maiden and Motorhead, their followers like Metallica and Megadeth, and most importantly, the throng of fans in each city that still come out to support them every time they grace these shores.