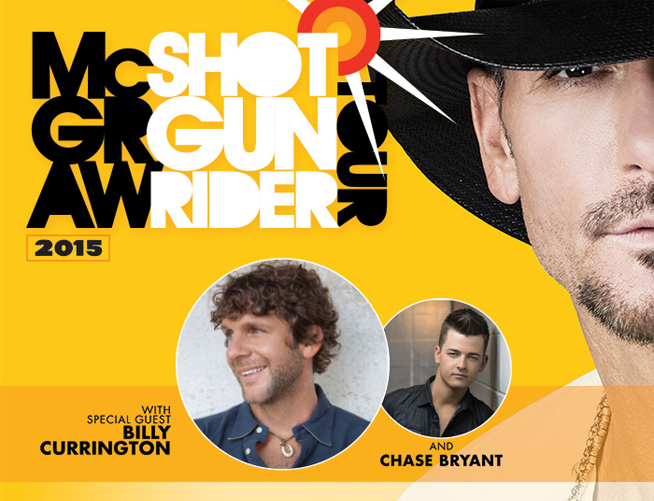 Venue: DTE Energy Music Theatre
City: Clarkston, MI
Date: August 2, 2015
Review and Photographs by: Todd "Toddstar" Jolicoeur (www.toddstarphotography.com)
Tim McGraw rolled into the Detroit area and set up shop at Clarkston's DTE Energy Music Theatre for a show that was bound to please the sold out crowd from open to close. With Billy Currington and new comer Chase Bryant on the bill, there was a little something for everyone in attendance. With a storm fast approaching, adjustments were made to set times and set lists. The show must go on and even with shortened stage times for each of the artists, they each brought all they had for this energetic crowd.
Chase Bryant opened the show and did what he could with twenty minutes. Playing tracks from his recent self-titled EP, Chase broke the evening open with his latest single and recent Top 40 hit "Little Bit Of You" and his Top 10 smash "Take It On Back." Debuting a new track from his upcoming release, Bryant kept the audience engaged and energized through his short set.
Next up was Billy Currington and he brought his best to the amphitheatre on this crazy Sunday evening. Trimming his typical 14-song setlist down to eight track tonight, Curringtoon was firing on all cylinders and had the crowd going from first note to last. Rallying the crowd, Billy played all hits tonight including a cool cover. Pulling from his various releases, he had the crowd charged up and ready to party. The crowd joined in an sang every song, but were almost louder than the sound system on tunes such as "Pretty Good At Drinkin' Beer" and set closer "Good Directions." A bonus near the end of the set was a cool cover of the Mark Ronson/Bruno Mars track "Uptown Funk." The crowd exploded - singing, dancing, and enjoying the moment and this other side of Currington. Going into the set, Billy had a lot of fans in the crowd. After his performance, he recruited many more, including me.
Headliner Tim McGraw moved his set time up in order to make sure the capacity crowd was safe before a massive storm moved through the area, but also to insure they were given a McGraw show full of hits. Opening with "Truck Yeah," the show was off and running with a great stage set up that allowed for full view of Tim and his band from just about anywhere in the venue. Pulling tracks from ten of his thirteen releases, McGraw was sure to pay tribute to his huge catalog, beginning with one of his earliest hits from his 1994 release Not A Moment Too Soon and encore cut "Indian Outlaw." Two other tracks from the 90's helped open the show with 1999's "Something Like That" and the other track from the 1994 release in tonight's set, "Down On The Farm." Having taken the stage in his black hat, a tight t-shirt, and worn jeans, Tim was full of energy and excitement for tonight's performance and it showed from song to song. McGraw pulled four tracks from the 2012 blockbuster Two Lanes Of Freedom, including the night's opening track and another of the encore tracks "Mexicoma," as well as fan favorites "One Of Those Nights" and "Southern Girl." Tim was more than happy to share the stage and mic with special guest Billy Currington, who joined McGraw for the 1995 smash "I Like It, I Love It." Tim's last release, 2014's Sundown Heaven Town contributed two songs for the nights festivities - "Diamond Rings and Old Bar Stools" and the tour's namesake "Shotgun Rider." The band was tight and played the material flawlessly, with smiles and energy abound. Another disc well represented was the 2007 release Everywhere, which featured three tracks, including "Where The Green Grass Grows." The evening closed out with 2004's "Live Like You Were Dying" and it perfectly shut the door on another Detroit area performance for McGraw and his band. Even with a shortened set and earlier stage time, Tim left everything he had on the stage, just as he always does. Now we just have to enjoy the new single "Top Of The World available HERE, await the new release in the fall of 2015, and another tour date in Detroit... hopefully very soon!
Complete set of TIM MCGRAW show photos HERE
Setlist: Truck Yeah - Something Like That - Down On The Farm - Southern Girl - Real Good Man - One Of Those Nights - Just To See You Smile - Diamond Rings And Old Bar Stools - Last Dollar (Fly Away) - Where The Green Grass Grows - Shotgun Rider - For A Little While - I Like It, I Love It - The Cowboy In Me - Mexicoma - Indian Outlaw - Live Like You Were Dying
TIM MCGRAW LINKS:
Complete set of BILLY CURRINGTON show photos HERE
Setlist: That's How Country Boys Roll - Don't It - Pretty Good At Drinkin' Beer - People Are Crazy - Hey Girl - We Are Tonight - Uptown Funk - Good Directions
BILLY CURRINGTON LINKS:
Complete set of CHASE BRYANT show photos HERE
CHASE BRYANT LINKS: