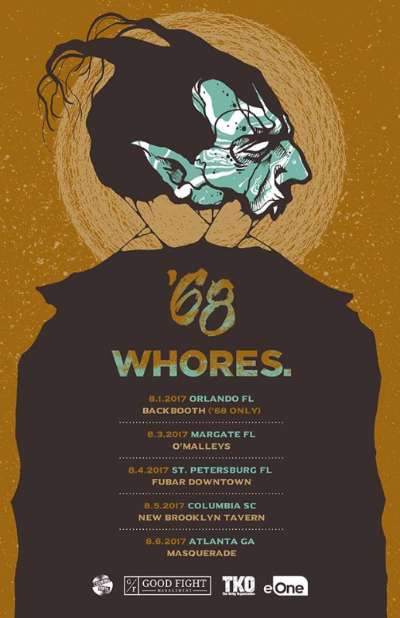 (New York, NY) Atlanta-based rock duo '68 will be headlining a handful of shows with direct support from Whores. through August after closing out their current world tour. '68 will kick off the short run solo on August 1st at Backbooth in Orlando, FL and share the stage with Whores. for the remainder of the dates, wrapping up on August 6th at Masquerade in Atlanta, GA. Sceptics were sure punk rock, grunge, and blues could never intertwine but the duo has proven that there are no limitations, tossing tradition to the curb each time they perform. Tickets are available now, here: http://theyare68.com/#tour-dates.
Upcoming North American Shows:
August 1st - Orlando, FL - Backbooth
August 3rd - Margate, FL - O'Malleys *
August 4th - St. Petersburg, FL - Fubar Downtown *
August 5th - Columbia, SC - New Brooklyn Tavern *
August 6th - Atlanta, GA - Masquerade *
October 1st - Louder Than Life - Louisville, KY
* With Whores.
Josh Scogin (The Chariot, Norma Jean) and bandmate Michael McClellan are known to channel everything from the intensity of At The Drive-In to Jack White-like vocals to a setup similar to The Black Keys. Together they released Two Parts Viper via Cooking Vinyl on June 2nd, 2017 to mass critical acclaim from several outlets including Alternative Press, Exclaim!, Paste Magazine, and Rock Sound. The 10-track record is now available for purchase on all major music services including Amazon, iTunes, Spotify, here: https://68.lnk.to/tpv.
Additionally, the pair has been praised endlessly for their live performance including a shout out from Frank Iero (known for his work in My Chemical Romance) who caught them at their headlining show at Webster Hall, stating "This is the most important tour happening right now. If you love music and being inspired: do whatever it is you need to do in order to go see ['68] play together. It will knock the wind out of your lungs and fill your soul with fire and awe." The band is currently on a world with Listener, making major stops throughout Europe, Russia, and Australia.
For updates on '68, please visit:
https://www.facebook.com/theyare68
https://www.instagram.com/theyare68