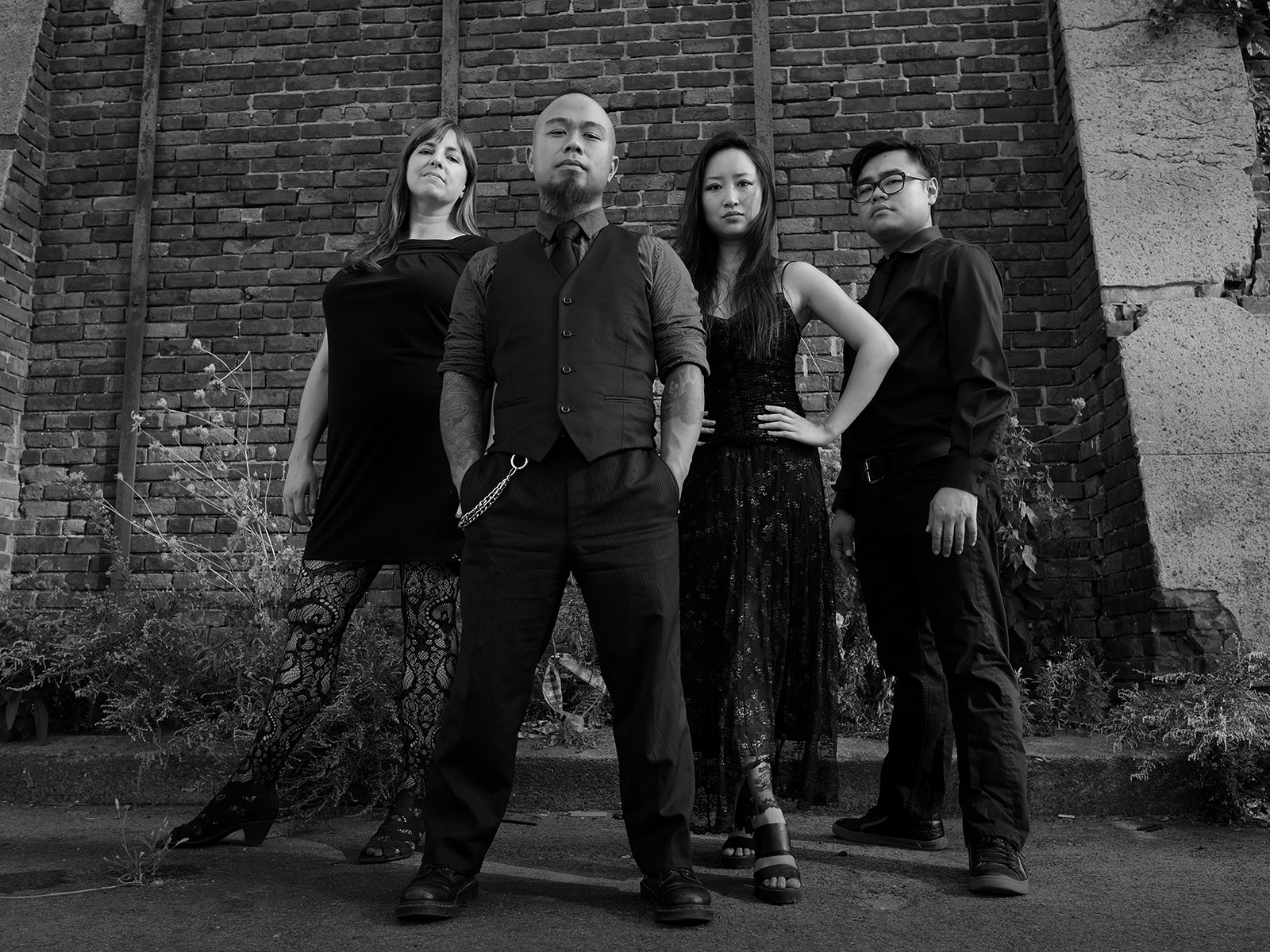 (New York, NY) – String quartet Seven)Suns is proud to stream their full-length album For The Hearts Still Beating before its official release exclusively on New Noise Magazine. New Noise Magazine raved about the new music, stating: "the record has a uniqueness to it shines in its adversity; that is taking metal head on with dazzling string arrangements... In an aura of chaos, For The Hearts Still Beating is illuminating quite brilliantly." Listen to all 10-tracks now, HERE. The record is due out this Friday, June 23rd but is available for pre-order via Bandcamp. Fans can also see the group perform at Drom in NYC with special guest Jeff Gretz from Zao on Thursday, June 29th in celebration of the release.
When asked about For The Hearts Still Beating, Maneein said: "The title 'For The hearts still Beating' was taken from Converge's song 'Last Light'. The music on our record was either written or arranged by me in the spirit of that Converge lyric. The current zeitgeist we are living in is a troubling one to say the least and I hope the listener finds a similar catharsis in listening to it that I found in writing it/ choosing other people's songs that fit and arranging them. Since we're a string quartet and there aren't any words to our songs, I can't promise that the listener can immediately make sense of us, but it is also my hope that he or she will find it ultimately rewarding if they give the album a chance."
This year, the band announced their signing to Party Smasher Inc. and unleashed a re-imagined version of "Heathens" by Twenty One Pilots via Alternative Press. It didn't take long for the uncommon interpretation to spread, later being admired by several other press outlets including Rock Sound, Fuse, and iHeartMedia, Inc.. Shortly after, the four-piece unveiled "Yama" - the first original track off the record - exclusively on BrooklynVegan which Maneein stated "was written with the poetry of the 15th-century Indian mystic poet and saint, Kabir, very much in the forefront of my mind. The overarching theme of Kabir's poetry is that he was a seeker of the Absolute- and that the ordinary grasping and ambitions of humans is useless in the face of death- Yama, as the god of death is named in Hindu and Buddhist traditions."
Maneein also launched 'Dependent Arising' on April 21 and 22. Rachel Barton Pine and The Phoenix Symphony premiered the original violin concerto of Heavy Metal Art by Maneein and conducted by Tito Muñoz. Alternative Press praised the event, declaring it a "unique metal-meets-classical piece."
Seven)Suns is a string quartet that defies pre-existing notions of what a string quartet should be by bringing two related popular music subcultures, Metal and Hardcore, into the tradition of the chamber ensemble. Seven)Suns has a far wider aural palette than is to be expected: driven, aggressive, dissonant and hard-edged as well as at times, contemplative, meditative, and still, running the entire gamut of human emotions ranging from pure, primal rage to serene contemplation. Their repertoire is drawn from works by the members of the group, re-imagined string quartet versions of metal and hardcore songs, as well as works from the Western art music tradition.
Comfortable in many different arenas of music, Seven)Suns has played shows in such diverse venues as The Gallery at Le Poisson Rouge, The Cell Theater, Saint Vitus, Firehouse Space, The Glove, Shapeshifter Lab, and The Knitting Factory.
Seven)Suns first garnered significant attention on social media with its covers of songs by Pantera and The Dillinger Escape Plan. The videos have received over 100,000 views combined and led to features on numerous heavy metal websites such as SkullsAndBones.com and MetalSucks.net among others. This, in turn, has led to a collaboration with The Dillinger Escape Plan on their latest album Dissociation, which was released in 2016 to great critical acclaim.
Seven)Suns recently received a generous grant from the Brooklyn Arts Council to write and perform a piece titled "Songs of the Voiceless" based on the quartet's visits to Rikers Island Correctional Facility in New York City. The members of Seven)Suns have volunteered there playing music for inmates in conjunction with the Rangjung Dharma Prison Project- a Tibetan Buddhist organization whose mission is to teach meditation and provide guidance to inmates.
Their full length album entitled For the Hearts Still Beating will be released by the Party Smasher Inc. label on June 23, 2017 and will include, among other works, "Rikers: Songs of the Voiceles," "Heathens," (a wildly different take on a song originally by the band Twenty One Pilots) and "43% Burnt," the classic The Dillinger Escape Plan song.
Seven)Suns is Amanda Lo (violin), Earl Maneein and Fung Chern Hwei (violin and viola) and Jennifer DeVore (cello).
For updates on Seven)Suns, please visit:
https://www.facebook.com/7sunsmusic
https://www.twitter.com/sevensunsmusic
https://www.instagram.com/sevensunsmusic
Photo Credit: John DeVore